Why Donate
At the world's largest diarrhoeal disease treatment facility, we provide treatment for over 200,000 patients free-of-charge.
icddr,b is primarily a research organisation.
Our life-saving, specialised hospitals in Bangladesh, and our global emergency efforts do not have their own source of funding.
Every year, our hospitals cost us $5,000,000 to operate. It is money which is increasingly difficult to recover from our research projects.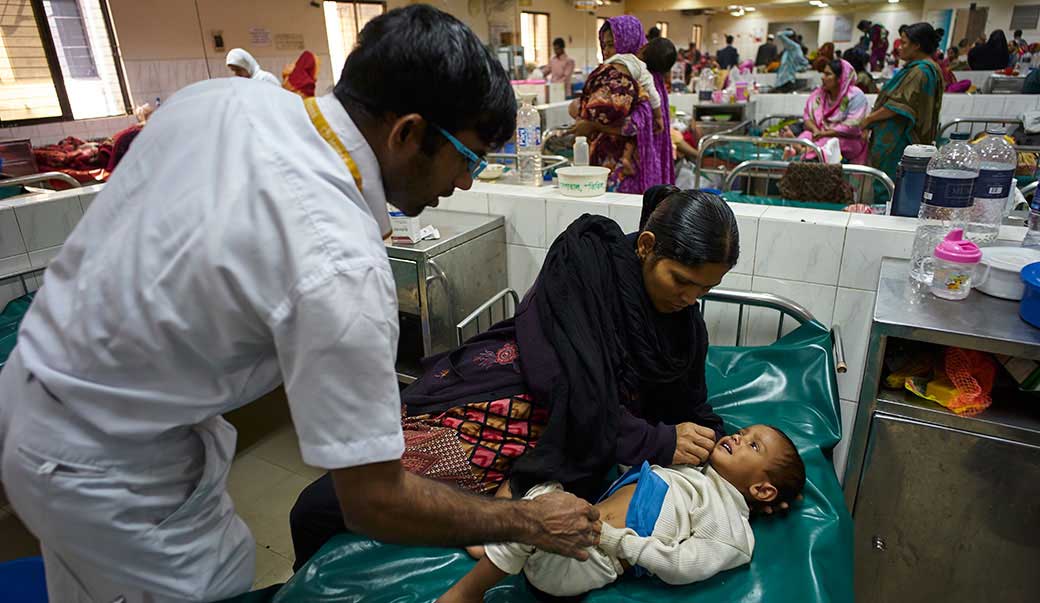 That is why we are asking for your support so we can continue to provide the medical care and expertise that has saved millions of lives since our foundation in the 1960s.
As long as people lack basic access to clean water and sanitation, we will continue to care for over 200,000 vulnerable patients in Bangladesh, while our research continues to help millions more.
Without our medical assistance many of our patients - 60% of whom are children - would die.
Your gift will not only save lives immediately, but the innovations and discoveries we make during patients' treatment will go on keeping people alive. Oral Rehydration Solution, discovered in our hospitals, has saved over 50 million lives. Bubble C-Pap, a low cost ventilation system, is expected to revolutionise the care of children with pneumonia in basic hospitals.
And every year we transport skills learned here in Bangladesh to save more lives around the world. When cholera outbreaks strike, icddr,b responds by providing training to healthcare workers. In 2017 alone we have trained health workers from Yemen, Ethiopia, Sudan and closer to home, our work is essential to assist Forcibly Displaced Myanmar Nationals stranded in Cox Bazar, Bangladesh.
Why donate to icddr,b
We urgently need donations to provide all year round facilities but particularly during the pre and post monsoon season (March/April and August/ September) when we can admit more than 1,000 patients each day.
During this time we need:
new cholera cots
additional intravenous fluid, oral rehydration solution, zinc supplements, rice saline and antibiotics
more doctors, nurses, health workers and other auxiliary staff to manage the seasonal peaks which affect the most vulnerable in urban and rural Bangladesh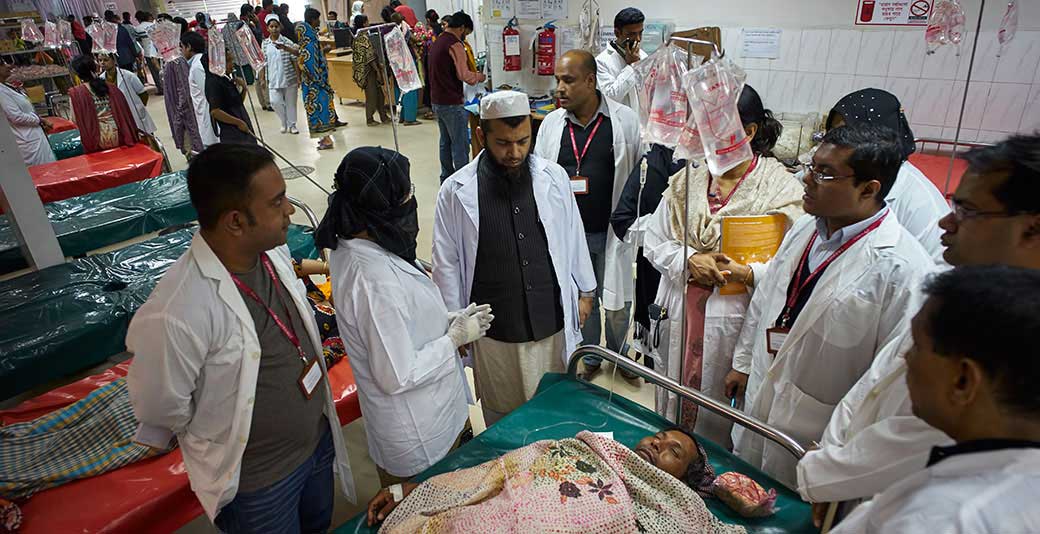 Peaks are caused by extreme heat, humidity and heavy rainfall leading to increases in contaminated water and poor sanitary conditions, causing potentially life-threatening diarrhoeal diseases.
Your kind support will help us offer a level of care and treatment otherwise unavailable to the most vulnerable in Bangladesh.
Our specialised hospitals
Our Dhaka and Matlab hospitals and our Mirpur treatment centre provide clinical services to complement the development of life-saving solutions.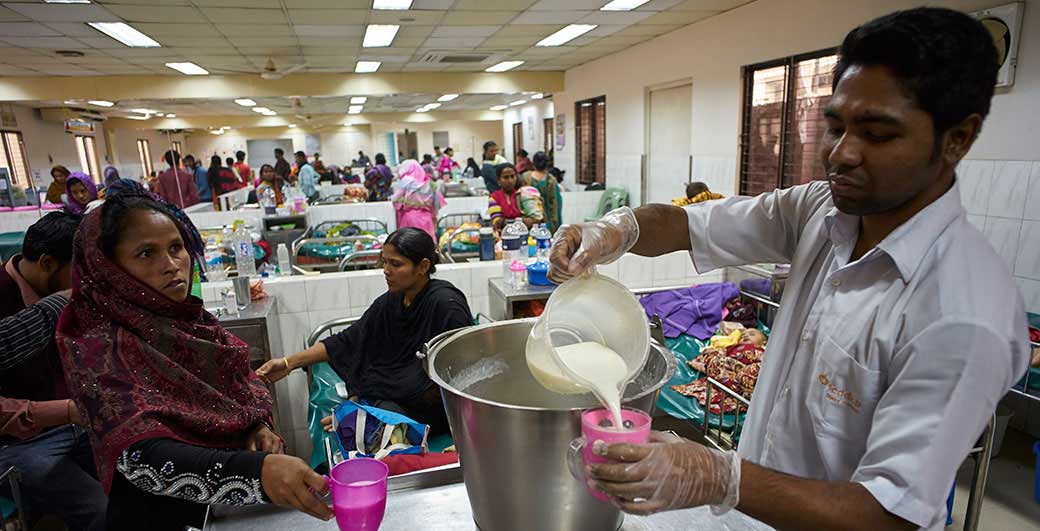 Our largest hospital in Dhaka has the following in-patient facilities:
emergency wards treating up to 1,000 patients per day during peak season for diarrhoeal diseases
short stay wards (24-48 hours) including units for immunisation, surveillance, and breastfeeding
intensive care unit for critically ill patients with severe pneumonia and respiratory infections
treatment and rehabilitation of severe acute malnutrition for children and long stay ward for mother and child.
Research-driven solutions
We are able to produce global life-saving solutions from our cutting-edge research and by using data collected during the treatment of patients.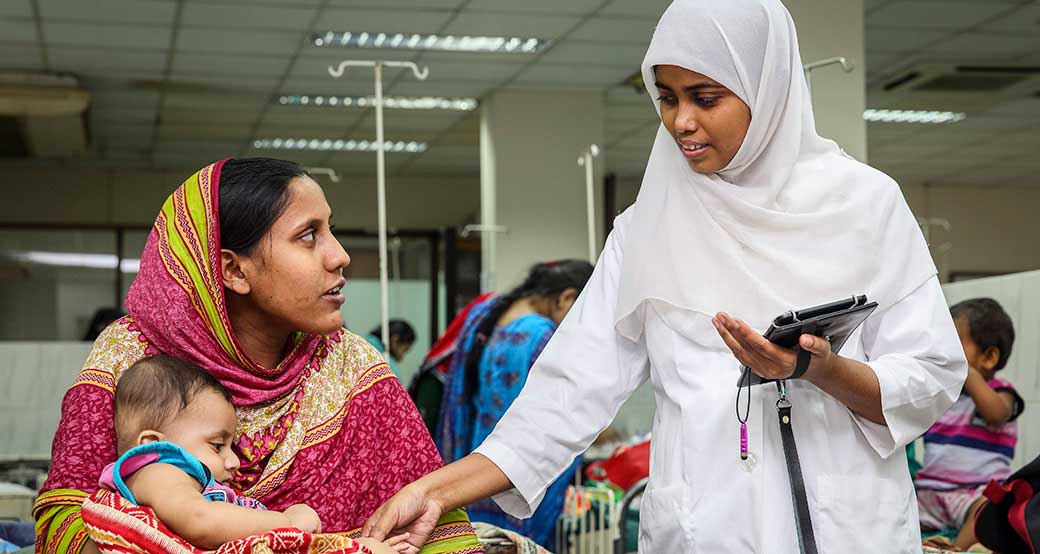 We are a world leader in public health research–including our ground breaking discovery of oral rehydration salts solution, popularly known as ORS which has saved more than 50 million lives so far.
Current research includes:
Maternal and neonatal health
Maternal and childhood malnutrition
Enteric and respiratory infections
Emerging and re-emerging infections
Universal health coverage
Health consequences of climate change
Non-communicable diseases
How to donate
Find out more about how to donate as an individual or as a business.